It's not too soon to start thinking about your child's next birthday party (even if the birthday is next next year!)  When you're a parent, birthdays spring up quickly, creating a rush to get the details secured and the invitations out. This year, resolve to give your child a memorable party that is as unique as they are!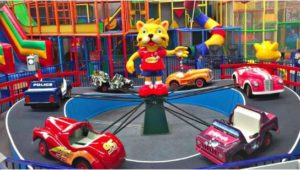 Indoor Play Centers
Of course, there are always the "turn-key" birthday places that churn out 8 parties a day. The kids love them and there's no mess to clean up at home. Then there's the one year you take your child to the same indoor play gym four different times for four different parties. With a little extra thought and effort, you can avoid doing the same birthday party as every other kid in the class!
Keep Your Child in Mind
First, think about what your child loves to do the most, then see if you can come up with a way to share their passion with a group of kids. Almost anything can be turned into a party: sports, trains, music, magic, crafts, favorite movies…
Next, decide on the number of kids, and a venue that will accommodate everyone. Aside from your house, you could have the party at a park, community center, restaurant, museum, or destination unique to your town.
Now, comes the most important decision – determining how you're going to entertain 5, 15, 30 kids (and possibly their parents) for a few hours.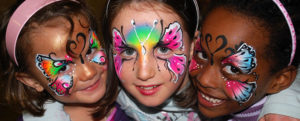 Be Creative
Here's where the real creativity comes in…and hopefully, here's where our experience at Kiddy's Kingdom can help:
If your child loves magic, bring in a magician. Be sure to work with the magician ahead of time to make the birthday boy or girl a part of the act.
If your child loves to be on stage, bring in a karaoke DJ. Before selecting a karaoke service, find out if they have your child's favorite songs.
If your child loves art, you could have a caricaturist do portraits of all the guests. Make certain that the caricaturist you select is accustomed to doing children's parties. And, of course, look at his or her portfolio. (Bonus – this is a great take home gift for guests!)
If your child loves the circus, there are lots of options…jugglers, face painters, balloon twisters, and clowns.
These ideas aren't reserved for the likes of celebrity kids. In fact, you can find some very affordable options, priced comparably or less than many of the turn-key birthday places mentioned above. Children's birthday parties don't need to be over-the-top to be memorable!
Planning your kid's birthday party can be fun and easy. Parents nationwide trust Phillips Kiddy's Kingdom to plan their festivities. We offer a wide selection of kids' entertainment services featuring cartoon characters, balloon twisting, face painting, clowns, and inflatable rentals. Our friendly team has everything you need to host an amazing event. Call (844) 454-3397 or select a location near you for more information.