Looking for kids party planning inspo?
If you love kids party planning as much as we do, then you're in luck!
For kids parties, take your theme literally and get really whimsical with your decorations and activities. Here at Phillips we love a great story, consider putting some thought and creative energy into bringing your theme to life. Have everyone dress in costume and incorporate party games that fit the theme. Food can be themed as well as decorations. If you're having a safari-themed party, for example, have kids come dressed for a safari, hand out toy binoculars and safari hats, and decorate with animal-themed everything. Consider a scavenger hunt to find hidden animals for prizes, and plan your other activities to fit the inspiration. This probably doesn't need saying, but when you're coming up with kids party ideas, remember to ask your kids! They've probably got a ton of creative ideas.
If you're still scratching your head for inspiration, here's our simple kids' party guide (along with some tips!) to help make your party planning easier: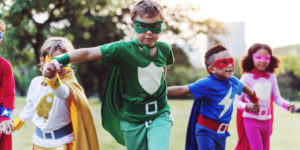 Theme
Deciding on a party theme is the best, especially with your little one.  Click here to read some of our suggestions for creative kids party planning themes! Once you brainstorm and nail down the final decision you can start to collect decorations or begin making your own.  This will help create excitement leading up to the big day.
Get input! Once your child is old enough to give input (age 2 to 3), definitely ask them what they want!  But, don't let them dictate the theme 100%. This may sound controlling, but trust me, kids come up with some pretty strange party themes over the years that I've had to nix. Parents generally love to see what their kids want to do, and then we work together to figure out the exact direction of the party theme. It's a really fun process, and kids LOVE planning their own parties and giving input!
Be careful choosing a party theme that is too obscure. Maybe your child is into Curious George, who knows? While this could be a cute party theme, it might prove hard to execute without a ton of DIY work on your end. Ever seen Curious George party plates? No, I didn't think so! So while I would give you an A+ for thinking "outside the box", we definitely recommend staying away from a very obscure themes unless you've got the time to devote to it.
Stick to a single theme. Sometimes, parents go overboard and try to combine three of their kid's favorite themes into one party because it's what the child wants. "Congrats! You've been invited to Jasmine's Slime-Puppy-Butterfly Party!". This will leave your guests confused and lends itself to a party that looks like it has multiple personalities. Try picking a single theme and stick to it.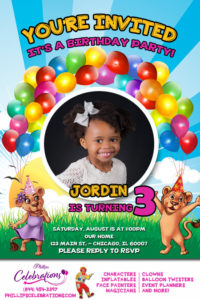 Order party invites here
Invitations & Guest List
Creating your own invitations can be a fun activity for you and the guest of honor.  Make sure you have the guest list finalized (grab a class list from their teacher! as well as family & friends) and double check it.  Make sure to send invitations out about 3 weeks before the event date.  Don't forget to include an RSVP date!
If you'd prefer to take a more personalized approach to your party invitations, we offer digital customized birthday invitations!
Venue
So much time and effort goes into finding the perfect kids' birthday party venue.  You're out and about looking at local venues close to home (think halls, examples) and talking to friends and family for recommendations, when the best option and our favorite idea, especially for summer, is your own backyard!
Here are 5 cool ideas for back yard parties:
Set up a Giant Bubble Station: This simple-to-assemble activity is so much fun for kids. Fill a kiddie pool with a homemade bubble solution and use a hula hoop as the bubble wand.
Watch a Movie Outside: There's something magical about watching a movie on a big screen set up in the backyard. Consider bringing your love for the outdoor movie to your own backyard by throwing a movie-viewing party for the kiddos.
Send the Kids on a Scavenger Hunt: Kids really love a scavenger hunt. As a parent, they're an excellent way to keep little ones occupied for an indefinite amount of time. Inexpensive to execute, they can also easily be customized based on the ages of the kids at your party.
Water, Water, Water: There's something thrilling about being soaked, or soaking someone else, with cold water. From water balloon fights to super-soaker battles to water gun tag (the person who is "it" used a water gun to tag the players and once you are hit you are "it") there is no limit to the amount of fun that can be had with water.
Turn to the Country Fair: There's a ton of inspiration at the country fairs we visit in the summer months. Consider using the games/activities spotted there in your birthday parties and family celebrations. From sack races to relay races to egg on a spoon races, there is no shortage of simple fun you're sure to see at these types of events.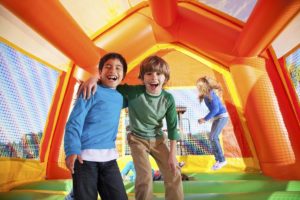 Entertainment
You can't have a kids' birthday party without some entertainment! Kids' party entertainment can range from costume characters to face painters, magicians to clowns.  There's also party rentals such a bounce houses and photo booths!  You can also make sure to include some kids' party games such as relay races, scavenger hunts, or bean bag toss.  Summer parties are great for DIY crafts that the kids can bring home as well as beating the heat with a water balloon tosses!
Phillips Kiddy's Kingdom offers the best entertainers nationwide. Take a look at our professional kids party services.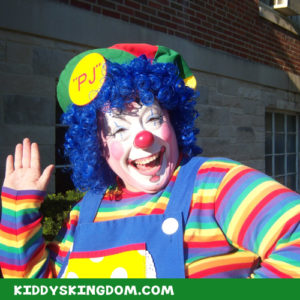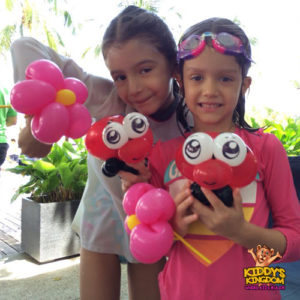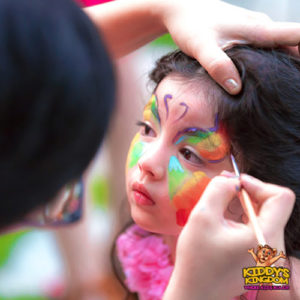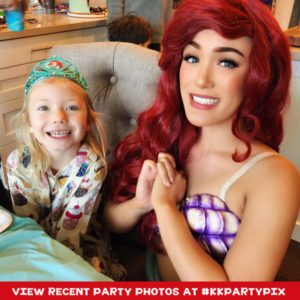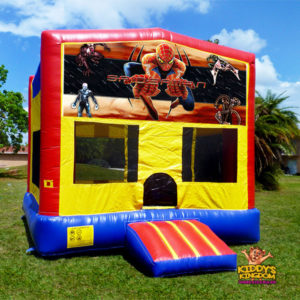 You can't go wrong with booking your children's birthday party entertainment with Phillips!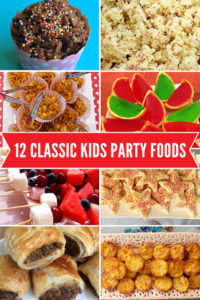 Food & Drinks
Food & drinks for the party can correspond with the theme!  Our Pinterest Boards are full of inspiration for food and drink ideas for all types of kids party planning themes.  Don't forget to include some special beverages for the adults! If needed – make sure to order the birthday cake or cupcakes about 2 weeks in advance.
As you prepare the menu for your kiddos birthday party, try not to become overwhelmed by the many options. That's right, everyone has different tastes, and satisfying everyone is nearly impossible. So, let's make this simple, we've compiled a short list of some creative/standard options to spice up your next party. They're great because kids love them, plus they're super simple to make.
Popcorn
To make our famous Phillips Princess Popcorn, we drizzle white chocolate over our popped corn and sprinkled it with colorful rainbow sprinkles. Pop it in the fridge to set, then serve.
Cupcakes
A classic vanilla cupcake can be dressed up in a myriad of ways with icing, sprinkles, lollies or homemade cupcake toppers.
Cookies
Another food that is so easy to theme – cookies! For shaped cookies, try Planning with Kids Easy Cookie Cutter recipe.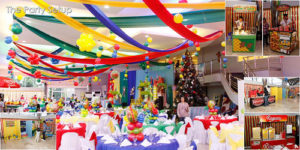 Party Favors
Can't forget the kids' party favors.  Each guest will leave with a special something to take home.  Whether this is a photo from your photo booth, a goodie bag or even a customized cake pop, it's sure to have all the guests leaving with a smile on their face.  A special party favor will make them remember the party forever!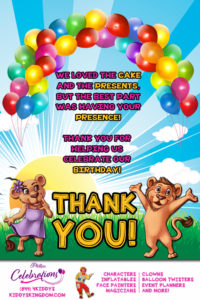 Order "Thank You" cards here
Thank You Notes
Something as simple as a handwritten thank you note may seem a bit outdated or old school, but is much appreciated by all party attendees. The thought behind a personal thank you note truly goes a long way! It's also a great way to sit down with your young one, reflect on the party, and do one more last project together.
If you'd prefer to take a more personalized approach to your Thank You note, we offer digital customized Thank You cards!
Planning your kids party can be fun and easy. Parents nationwide trust Phillips Kiddy's Kingdom to plan the festivities. We offer a wide selection of kids' entertainment services featuring cartoon characters, balloon twisting, face painting, clowns, and inflatable rentals. Our friendly team has everything you need to host an amazing event. Call (844) 454-3397 or select a location near you for more information.