Kids Carnival Party Guide
Throwing an exciting themed kids carnival party for a birthday party or any other special occasion is a wonderful way to entertain kids. What could be more fun than balloons, games, and cotton candy in your backyard? The first is to enlist the help of friends, family, and a professional team specializing in kids' entertainment. Below is a guide highlighting several details for throwing the perfect kids carnival party.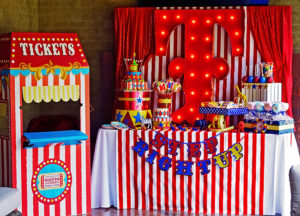 Ticket Booth
To create an authentic looking carnival, you will need a ticket carnival-booth. The guests can receive tickets for each game or activity area they plan to visit.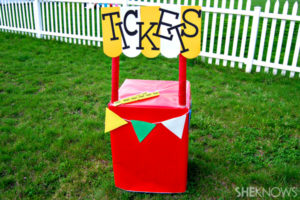 If you'd like to do it yourself, creating a homemade ticket booth is fun and easy! Here's how:
What you'll need:
large cardboard box
flat piece of cardboard
wrapping paper tube
solid color gift wrap
crepe paper
construction paper
string
scissors
tape
glue
What you'll do:
Wrap the large cardboard box with the solid color gift wrap.
Make the sign by cutting the flat piece of cardboard to the same width as the box, and about one foot tall.
Cut several sheets of yellow and white construction paper in half lengthwise. Round the corners on one end of each strip. Glue the strips to the cardboard to create the sign for the ticket booth.
Draw the letters for the word "tickets" on black construction paper. Cut out the letters and glue them to the sign.
Cut the wrapping paper tube in half and glue both halves to the back of the sign to support it.
Use tape to secure the bottom of the wrapping paper tubes to the top of the large cardboard box.
Wrap the wrapping paper tube with crepe paper and use tape to keep it in place.
Create a bunting by cutting triangles out of colored construction paper. Tape the triangles to a piece of string, then swag the bunting across the ticket booth.
DIY instructions courtesy of SheKnows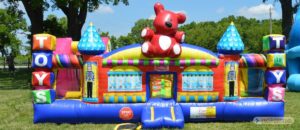 Inflatable Castle
An inflatable bounce house castle provides hours of enjoyment and adventure for kids. A bounce house is filled with air and gives kids the chance to jump and climb until their hearts are content, in either wet or dry conditions.
Everybody loves a bouncy house, also called an inflatable bounce house. Bouncy houses can provide hours of entertainment and keep kids contained and happy so the adults can relax and have fun, too. Also known as moon bounces, inflatable castles, jumpy castles, jumpy houses or inflatable slides, these large-scale blowups are inflatable rentals literally made to be bounced on.
At kids carnival parties, you may request to have a paid staff member stay with the bounce house throughout the event to monitor safety and ensure the structure remains properly inflated. A standard size for a bounce house might be 15 feet by 15 feet by 13 feet, although they can be much larger with many different features. Often, the inflatables are decorated with popular superhero or cartoon themes, such as Mickey Mouse or Frozen. You can request a carnival colored bounce house as well.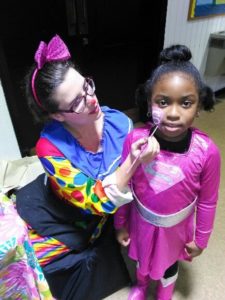 Face Painting
Carnival face painting provides a creative and entertaining pit-stop at any event. It's a treat for guests of all ages and gives kids the opportunity to become any character they choose. Talented artists use colorful paints to make custom designs and brighten the day. Hiring professional face painters for kids birthday parties are a great way to add color and entertainment to any kind of event, party, festival, or fundraiser, and are a wonderful treat for guests of all ages!  When hiring a face painter for an event, you want to think about a few things in advance:
Time:  Do you want all of your guests to have an opportunity to be painted?  Consider how fast your artist(s) can paint, and how long your party last, as we require a minimum of 2 hours booked time to appear at an event.  Many are able to do both Cheek Art as well as detailed Full Face designs, but it is wise to ask about the particular painting speeds of the artist you are hiring, as painting times often differ wildly from artist to artist.  If it is an event for children, consider that some of the adults attending may also be interested in having their faces painted.  If you have a large number of guests, you may want to consider hiring multiple artists so that all of your intended guests can be painted.
Designs:  Does your event have a particular theme, mascot, or logo?  In addition to being able to tailor design types to your time and number of guests, many face painters are also able to offer specific or custom designs.  Most artists are more than happy to tailor their selection of designs to reflect the type of event by request and with advance notice prior to your event.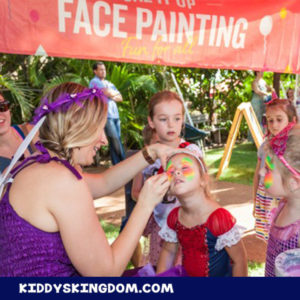 Photo courtesy of Instagram
Kids Love Face Painting at Carnival Parties
Location:  Face painters require about 8'x8′ of space to work, preferably indoors or in the shade.  It is also necessary to have a reasonable separation between loudspeakers and the artists. Doing so will allow the artists to communicate with guests to find out what they would like.  While it is preferable that the event provide equipment such as tables, chairs, and awnings (for outdoor events), some artists are able to provide their own if needed.  Face painters will need access to parking as close as possible to the event for the transportation of materials, and access to water.  Keep in mind that long lines often form at larger events that can block foot and vehicle traffic. Please consider queueing lines or line assistants so the artist can work faster and more efficiently.
Materials:  Our artists use professional face paints that are non-toxic, skin safe, and that wash off easily with soap and water.  For children with sensitive skin, smaller designs on the cheek, hand, or arm are great alternatives. However, reactions to professional grade paints are extremely rare.  Also, because of the water-solubility of the paints, face painting may not be suited to certain events. Events such as pool parties, you may want to consider scheduling face painting when the guests are no longer swimming.   Then again, some kids love having their faces painted, only to jump in the water so they can be painted again!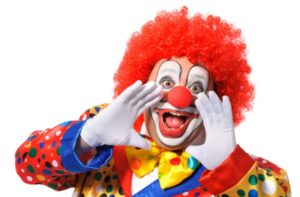 Hire a Clown
Who doesn't love a rowdy clown running around the party, spreading laughs and cheer? Professional clowns wear their emotions on their sleeve, encouraging kids to be silly and lighthearted. They provide a memorable experience for guests with their non-stop antics.
Instead of going out to a crowded carnival, why not bring the circus right to your backyard with a professional clown theme party? With a clown theme party, you can skip all of the lines and overpriced food. Don't worry, you can still bring the magic and excitement of the carnival right to your own home.
Silly Clowns Are Perfect for Carnival Parties
Throwing a clown kids carnival party can be a lot of fun to set up. For starters, you'll want fitting party hats, plastic silverware and a cake that all tie into your clown party theme. You can set up your backyard (or even a rented park or clubhouse) with clown party decorations to look more like a carnival. In place of carnival rides, set up a bounce house with a design that fits your clown party theme. You can rent a petting zoo for your clown party and let the kids actually pet some animals.

Of course, no clown birthday party (or any clown theme party for that matter) is complete without an actual clown for your party! Our clown theme party package is great for any circus/carnival/clown party. Our clowns are non intimidating and do not hide their entire face in makeup, so you don't have to worry about anyone being afraid. Clowns will lead the kids through a series of fun party activities that are done in group and solo sessions. You can choose the clown's activities for the party yourself, so that it's tailored specially to your celebration. Our clown is also great for even a regular party, and will hold the kids' attention with funny and exciting activities.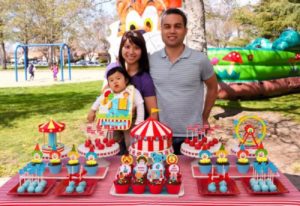 Photographer
Hiring a professional photographer or someone dedicated to taking pictures for the day will capture memories of the event. Hiring a professional allows parents to supervise activities and participate in every fun moment.
We offer a photo-op add-on to many of our party packages. After the entertainment, the kids can gather together for personalized photos that make a wonderful keepsake from the party with their favorite characters and guests! 

The photo op is available to any child in attendance who wants to join the group photo and to any adult with a camera. If you prefer to have a single photographer that is great too, and photos can be shared with the other attendees afterwards. If you have a professional photographer at your event we accommodate that too! And if you want to post your shots on social media, please tag us at #kiddyskingdom! Call today to add this to your entertainment package!
Planning a kids carnival party will provide an incredible day of entertainment for the children. Parents nationwide trust Phillips Kiddy's Kingdom to plan the festivities. We offer a wide selection of kids' entertainment services featuring cartoon characters, balloon twisting, face painting, clowns, and inflatable rentals. Our friendly team has everything you need to host an amazing event. Call (844) 454-3397 or select a location near you for more information.