Think you can't afford kids birthday entertainment like hiring a DJ or renting a bounce house for your next party? The fact is, expenses like hiring an entertainer or renting party equipment, are always worth the investment. Not only are they entertaining your guests, they are doubling as babysitters for the children. Now that's downright invaluable when you're hosting a party! Here's a list of the top things you may want to spend some of your party budget on the next time you throw a party for your child.
Magician
One of the most invaluable entertainers to have at a kids' party is a professional magician. Children's Party Magicians are very unique because they can entertain both the children and adults. Children's magicians often provide a show especially for children ages 4-12. These showcases are often interactive, so parents can participate in as well. There aren't many activities that can bring every guest together for a smile in unison. When you consider the cost of a magician, you will want to know the age groups of your guests. Most often, children's party magician rates range anywhere from $149 to $300 per hour. You'll also need to know the amount of guests you're expecting. Both can affect the cost.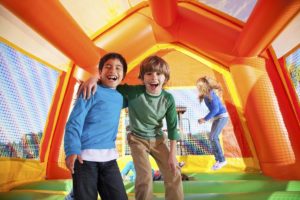 Bounce House
These inflatable structures of ready-made for hours of kids birthday entertainment. (Another big bonus: All that jumping around will allow kids to spend their endless amounts of energy, making them nice and tired at the end of the day.) Bounce Houses can cost around $100 to $250 to rent, depending on how big it is and how many hours you want to rent it for.
(NOTE: For safety, be sure the Bounce House is tied down securely. Don't let bigger kids bounce with younger and smaller children. Never, ever leave kids unattended without an adult supervising. When speaking with your fun specialist, be sure to read reviews on Kiddy's Kingdom and ask for references.)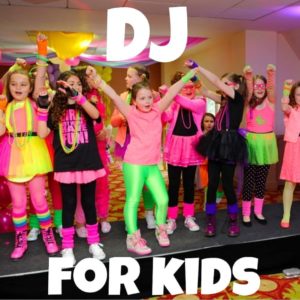 Kids DJ
Hiring a pro to handle the music isn't a bad idea if you are planning a kids' party with a large number of children. If you're planning to set aside an area for dancing, go with a pro to keep it full. A DJ can cost anywhere from around $99 to nearly $199 p/h depending on where you live, according to Kiddy's Kingdom. A live band will charge much more, from around $500 to over $1,200. If you're thinking about hiring a professional DJ  to provide your kids birthday entertainment, be sure to go through an event-service provider like Kiddy's Kingdom so that you can be sure you're getting the best DJ for your kids birthday party.
Face Painter/Balloon Twister/Clown/Costumed Character
Hiring an entertainer is also a great idea for a kids' party, many are surprisingly affordable. According to Kiddy's Kingdom, a face painter can cost about $99 to slightly over $129.99 p/h, depending on your area. A balloon twister is about the same ($99 to $129 p/h) and clowns are a bit more expensive ($149 to about $199). Younger kids particularly love the idea of having a superhero or a princess come to the party. Having someone come to your child's celebration in costume can run you anywhere from around $149 to $225. For parents, not having the pressure of coming up with ideas to entertain kids can be a huge relief. Leaving the entertainment to a pro can be well worth the cost.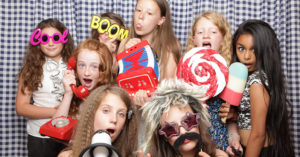 Photo Booth
Because it's a bit pricier than other things you can rent for a party (the average cost is around $300 to more than $600, depending on where you live, according to Kiddy's Kingdom), you may want to reserve this for a big-event kids' party, such as a Sweet Sixteen, a Quinceanera, or a Bar Mitvah or Bat Mitzvah. But whatever kid party you rent this for, a photo booth will be loads of fun for everyone, adults and kids alike! Plus, you can leave some homemade photo books made out of card stock paper on a nearby table for guests to put photos in and take home after the party.
No matter what service you decide to use for your party, think about what your own personal needs are and what your budget is. If you really dread the idea of finding ways to entertain kids, renting a bounce house or hiring entertainment may be what you need. If you're hosting a huge, milestone birthday bash, a band or DJ may be the way to go. In cases where your guest list includes lots of young children, a sitter will be an invaluable asset as well. Think about the cost-benefit ratio for your individual situation (and what will save your sanity). Consider booking assistants through party pros like Kiddy's Kingdom.
Planning your kid's birthday party can be fun and easy. Parents nationwide trust Phillips Kiddy's Kingdom to plan their festivities. We offer a wide selection of kids' entertainment services featuring cartoon characters, balloon twisting, face painting, clowns, and inflatable rentals. Our friendly team has everything you need to host an amazing event. Call (844) 454-3397 or select a location near you for more information.