Hiring Santa Claus to arrive at a dinner, gift exchange, or community event will make for a truly magical experience!  There are a few things to consider before finalizing your booking. As expected, Santa's schedule gets pretty hectic during the holiday season. If you are interested in having him join in on your festivities, check out our top three tips for hiring: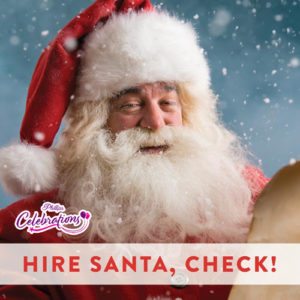 1. Background
When planning a children's event, you want to be sure you are hiring a trustworthy performer, especially if it's Santa Claus. Not only do you want a professional, but you'll want to ensure your child's safety by checking if the performer has a current background check. Take your time viewing your potential entertainer's Kiddy's Kingdom photos. Ask your Fun Specialist for honest feedback and take a look at our performer's photos. By looking at what kind of events a particular Santa has worked, you will see how experienced he is.
2. Ask Questions
He sees you when you're sleeping, he knows when you're awake, he knows if you've been bad or good but he's not a mind reader. You have nothing to lose when requesting a free quote from a Santa vendor. Use this function as an opportunity to add in any questions you'd like answered. We recommend: what will Santa be wearing? (if there are options), what services besides visiting with children does he provide? (taking photos, singing, passing out gifts), does he come with Mrs. Claus? Asking questions will help you figure out which Santa is the best fit for your event!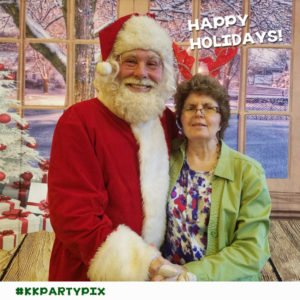 3. Book Early
Santa is a very busy man! It is never too early to book your Santa. Some Holiday Santas will be booked as early as three months in advance of the holiday season. Bookings are in highest demand during the two weekends leading up to Christmas, so secure a booking now to make sure Santa will make a stop at your party. HAPPY HOLIDAYS!
Planning your holiday party can be fun and easy. Event planners nationwide trust Phillips Kiddy's Kingdom to plan their festivities. We offer a wide selection of holiday entertainment services featuring holiday characters (Santa, Grinch, Mrs. Claus, elves and more), balloon twisting, face painting and equipment rentals. Our friendly team has everything you need to host an amazing event. Call (844) 454-3397 or select a location near you for more information.