There are few days as special as your baby's first birthday party. But making the most of this wonderful occasion for your child isn't easy, particularly if you've never done it before.
At first glance, there are so many things to consider; the theme, the invites, the food, and then there's the age-old problem of who to invite. This is why so many people, unfortunately, make the mistake of forgetting to focus on what really matters.
We've put together the ultimate first birthday party checklist to help you organize your 1st birthday party. To make it ultra simple to navigate, we've divided the tasks into the most appropriate time frames for you.
No need to thank us – just get that pen and paper handy and start planning that party!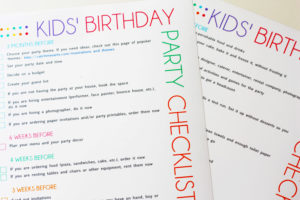 1 Month Before
SELECT DATE AND TIME
You'll (no doubt) want to invite a fair few people to the party, right? We suggest that you get this task polished off as early as possible in order to ensure your child's first birthday makes it into their diaries. Always try to avoid dates that are public holidays or midweek, if possible.
MAKE A GUEST LIST
First, focus on your immediate family and friends, and only extend out if you feel you need to. Depending on how busy or far-flung your family and friends are you might want to do this step earlier. Providing those closest to you are included from the start, you won't run the risk of upsetting anyone on this occasion.
MAKE A LIST OF PHONE NUMBERS
Grab your favorite, trusty spreadsheet application and make a list of everyone's phone number and email address. This will come in handy very soon.
Not a spreadsheet wizard?  Don't worry, we've made a First Birthday Party Planner excel template you can download here.
SELECT A PARTY LOCATION (HOME/OUTDOOR)
If you're feeling adventurous and the big day happens to fall during the spring or summer, go for an outdoor location. Always plan with a back up location in mind just in case mother nature has other plans. It's better to plan safe than to plan sorry.
DECIDE THE PARTY THEME (IF THERE IS ONE)
A theme isn't always necessary and may be a step too far if you're pushed for time. However, if you want to set a theme for the party, go for it. Fairy tales, characters and scenes from popular television programs are usually a big hit.
SET A BUDGET
Time for the money element! You won't need a big budget for a first birthday party. Simply ensure you have enough to cover the venue (if it charges for space), food and decorations. Be realistic – there's no need to overdo this.
BOOK OUTDOOR VENUE (IF REQUIRED)
If you've decided to go for an outdoor venue for your first birthday party – great! Just make sure you book it with plenty of time ahead. Popular venues tend to get snatched up when the weather gets warmer.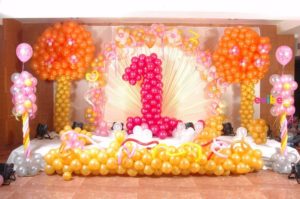 3 Weeks Before 
CREATE & DELIVER INVITATIONS
Remember that contact list you put together a little while ago? It's now time to use it! Unless you want to go the traditional route, digital invitations will save you a huge amount of time. Create a nice email or text together to get them sent out.
Plan your baby's outfit (if it's a themed party)
If you've chosen to host a themed party, it's time to shop for the outfit. If you know of someone who has a spare piece of clothing you could borrow, that'll help save a chunk of your budget, too!
Have a basic party menu ready
Finger buffet food is the key here, but be sure to make a list of what you're likely to have on the table before you place your order.
Choose a caterer or sort out recipes
Save money: do the food prep yourself (ask a friend for assistance). If you're open to spending a little to gain more time: bring in a caterer. Make the choice that works in harmony with the venue and your budget.
Choose a first birthday cake
There are some lovely first birthday cakes you can pick up at a relatively low cost. However, make sure you go for a fairly large cake to ensure there's enough to hand around at the end of the party.
Plan for your "Thank You" cards
Sending a "Thank You" card in the mail is a really nice gesture. So, now's the time to think about ordering the style of cards you'd like to send. You can also begin purchasing postage stamps for each card.  Having the cards and stamps on standby mean this won't be forgotten in the post-party wind-down!
Phillips personalized digital "Thank You' cards are available here. 
Decide on 2 or 3 party games
The best way to fill time during the party is to plan for two or three party games. Potato-sack racing, hide and seek or Pinata are classic ways to keep the older kids (and adults) entertained.
2 Weeks Before
SHOP FOR PARTY BAG GIFTS AND DECORATIONS
A party bag can easily and cost-effectively be made a little bit more special with a ribbon and birthday-themed sticker or two. Add those to the simple gifts that'll be contained inside.
SHOP FOR OTHER BIRTHDAY RESOURCES
Think of anything else you might need – paper plates, tablecloths and cleaning products (particularly the latter!), and add them to your birthday shopping list.
ENLIST THE HELP OF FAMILY & FRIENDS
Don't do this alone! Rope in your family and friends to help; they'll likely jump at the chance.
ORDER A BIRTHDAY CAKE
You could, of course, get a cake from a supermarket. However, if you want to make the day that little bit more special, order a unique cake featuring your baby's name, instead.
CONFIRM PICK-UP DATE/TIME WITH BAKERY
The local bakery is a great choice for the cake, most will be able to work to your schedule if you give them plenty of time.
ORGANIZE EXTRA FURNITURE AND SOFT TOYS IF THE PARTY IS AT HOME
If you're going to hold the party at your house, make sure you've got enough emergency chairs, additional toys and baby blankets to ensure it goes by without a hitch.
BOOK OUTDOOR ACTIVITIES SUCH AS BOUNCY CASTLES OR SWINGS
If you've gone for an outdoor venue and have decided to hire in particular activities, now is the time to get them ordered to avoid disappointment.
BOOK ENTERTAINMENT SUCH AS MAGICIANS AND CLOWNS
Entertainers will require at least a couple of week's notice when booking, so get in touch with them now to ensure they have your preferred date and time available.
BUY PRIZES FOR THE PARTY GAMES
A party game isn't much fun without a prize for the winner, so make sure you shop for simple, low-cost prizes. Again, chocolates and sweets are always winners here.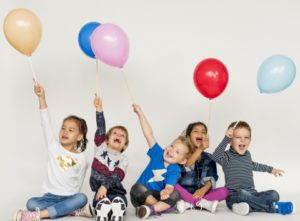 1 Week Before
GET FINAL HEADCOUNT AND RSVPS
By now, you should have received most of your RSVPs. If necessary, followup with anyone who hasn't responded so you can get that all important final headcount.
CONFIRM BOOKING WITH VENUE/CATERER IF APPLICABLE
If you originally put off confirming the venue while waiting for the exact number of people attending, now is the time to confirm the date with the final headcount.
START ORGANIZING PARTY BAGS AND LABEL THEM WITH GUEST NAMES
Time again to turn to that spreadsheet of invites. Felt tip in hand, start putting together your party bags with all the necessary goodies and label them with guest names.
CHECK MEMORY STORAGE ON YOUR PHONE OR CAMERA SO YOU'RE READY TO CAPTURE THE SPECIAL DAY
There will be so many photo opportunities on the day, so make sure you don't run out of space on your smartphone or camera. Photo-sharing sites like Google Photos offer unlimited storage and make sharing birthday party pictures really easy.
CHECK YOUR FIRST AID KIT – ANYTHING CAN HAPPEN AT A PARTY
It doesn't really bear thinking about, but things can go wrong at kids parties. Be sure you have a fully-stocked first aid kit to hand, just in case.
SHOP FOR YOUR BABY'S BIRTHDAY OUTFIT AND PRESENT
If you didn't need to buy a themed birthday outfit for your baby, you can leave it until now to shop for their 'normal' outfit. It pays to bundle this in with the present shopping, too.
CHECK TO ENSURE THE VENUE IS BABY-PROOFED
No sharp objects, open plug sockets or expensive equipment onto which drinks can be poured; leave no stone un-turned!
SELECT APPROPRIATE PARTY MUSIC
This part is fun – and there's no harm in admitting it. Grab your music library or streaming service and set up a special playlist that features songs and that are appropriate for the occasion.  Make for sure your playlist doesn't include any lyrics not suitable for children's ears!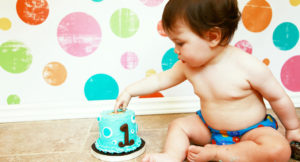 1 Day Before
CHECK CANDLES, CAKE KNIFE AND MATCHES FOR THE CAKE
Everyone will be looking forward to the reveal of the birthday cake, therefore, make sure you're ready to make this first one ultra special with all the trimmings.
CHOOSE YOUR OWN PARTY OUTFIT AND ACCESSORIES
Time to focus on yourself! Spend some much-needed time looking for an outfit and accessories for yourself. Mom can look great too!
RE-CHECK GUEST LIST
The last thing you want to do is accidentally leave anyone out, with so much going on, you might want to take one last look at the guest list. Is everyone definitely present?
RECONFIRM WITH YOUR FAMILY & FRIENDS REGARDING ASSISTANCE
If you've scheduled support for pre-party preparation and activities on the big day, make sure you double check that those who opted in are still up for it (once they're in, they're in!).
KEEP YOUR BABY'S OUTFIT AND SHOES READY FOR THE BIG DAY
To avoid last-minute scrambles, leave the baby's outfit and shoes somewhere obvious before the big day. That way, you can grab them quickly when the time comes to get dressed up.
WRAP YOUR BABY'S BIRTHDAY PRESENT
Grab your favorite wrapping drink (be it a glass of wine or cup of tea) and enjoy wrapping your child's first ever birthday present.
GET TO BED EARLY NIGHT – IT'S GOING TO BE A LONG DAY TOMORROW
Now for the most important piece of preparation you'll do the day before. Tomorrow will be long, emotional and hard work, so make sure you get plenty of sleep beforehand. Once that present has been wrapped, try to get some much-needed rest!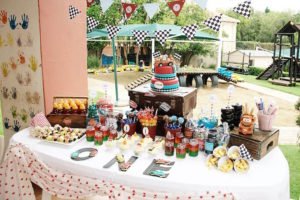 On the Birthday
START PREPARING PARTY FOOD AND REFRESHMENTS
To ensure maximum freshness, reserve the first couple of hours of the day to preparing the food and refreshments. This is where those handy helpers will be invaluable.
SET THE TABLE AND DECORATIONS
Transform the tables in the venue or your home with the decorations you purchased and make everything look great.
SET A SEPARATE PLACE FOR PRESENTS
When people arrive, they'll probably be laden with presents, so make sure there's an obvious area for them to be placed, ready for opening later on.
PICK UP THE CAKE
Head to your local bakery and get that cake. If you've done your homework, it'll be ready and waiting for you. Just remember to be very careful driving it back – take someone along with you to hold it steady, if possible.
MAKE SURE YOUR CAMERA OR PHONE IS CHARGED AND READY TO GO
Keep your phone or camera on charge for as long as possible during the morning and make sure it's working as intended an hour or so before with some test shots.
KEEP CAMERAS AND CANDLES READY
Keep both the birthday cake candles and camera in your pocket at all times – you'll need to grab both quickly when required.
KEEP THE FIRST-AID KIT IN A SAFE PLACE
Again, we won't dwell on the reasons for this one, but make sure you and a few other parents know exactly where the first-aid kit is located. Make it as easy to access as possible.
KEEP THE GUEST CONTACT LIST IN A SAFE PLACE
The spreadsheet you created a few weeks back containing guest contact details may not be out of service just yet. Keep a printed copy of it close by just in case you need to contact anyone, or if you need to check where someone important is.
And remember to get someone to take note of what gifts you received so that you can send out personalized "Thank You" cards after the event.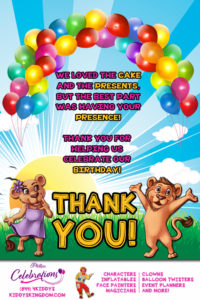 Order Phillips personalized birthday "Thank You" cards here.
The Day After The Birthday
Grab the spreadsheet containing the note of the gifts you received, now's the time to find those "Thank You" cards and stamps you ordered 3 weeks ago.  Handwritten or personalized cards really create a lasting impression and are a joy to receive.
That's all, folks!
Time for a super duper pat on the back. If you follow our guide to organizing your child's first birthday, you'll create a day that will live long in the memory of your family and friends. Most importantly, you'll have numerous photos to embarrass your child with later in life!
Planning your kid's first birthday party can be fun and easy. Parents nationwide trust Phillips Kiddy's Kingdom to plan their festivities. We offer a wide selection of kids' entertainment services featuring cartoon characters, balloon twisting, face painting, clowns, and inflatable rentals. Our friendly team has everything you need to host an amazing event. Call (844) 454-3397 or select a location near you for more information.